E B Segner /
Ellen Barbara Segner

(?? - 2001)
All descriptions of sizes are approximate and describe the board, page, or canvas the art is applied to.
The Sunbeam works were purported to have come from a sale at Segner's estate.
Sunbeam Bread. Segner Item 1
This is a complex pastedown piece, all original artwork. For example: the painting of Miss Sunbeam and her basket is pasted down over a painting of a pumpkin. Watercolor.
Board is approximately 20 x 21. Condition: some pencil and paste-down crop marks. Some light smudges on the board.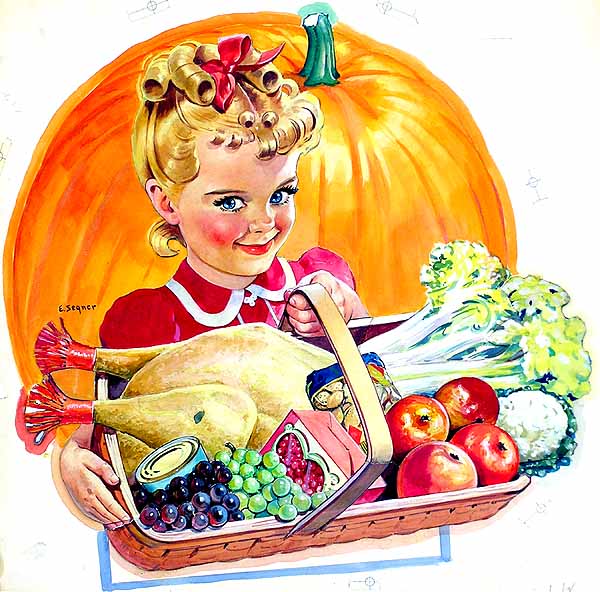 Sunbeam Bread. Segner Item 2
Miss Sunbeam holds a "Quality" ribbon. Appears to be gouache.
Board is approximately 13 x 14. Condition: white paint around the image is flaking in places. Light moisture (?) mark along bottom.
Fruit Label. Segner Item 3
Man fruit boat across the tropical water with a bamboo pole.
Appears to be gouache.
Board is approximately 22 x 17.5. Condition: board around painting has tanned a (board not shown); corner bumps (these do not touch the image).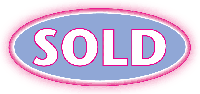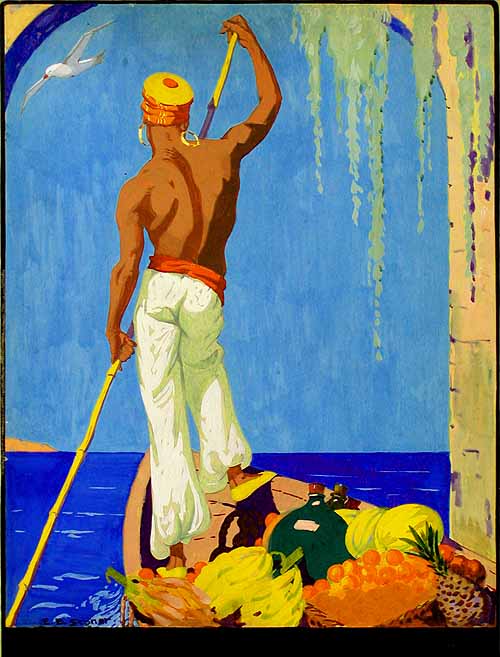 Sunbeam Bread. Segner Item 4
Rare, full-body (as opposed to just upper body) of Miss Sunbeam as she frolics in Autumn leaves. Appears to be gouache.
Approximately 40 x 24. Condition: there is a one inch (or so) tear at the far right of the canvas (not in image area).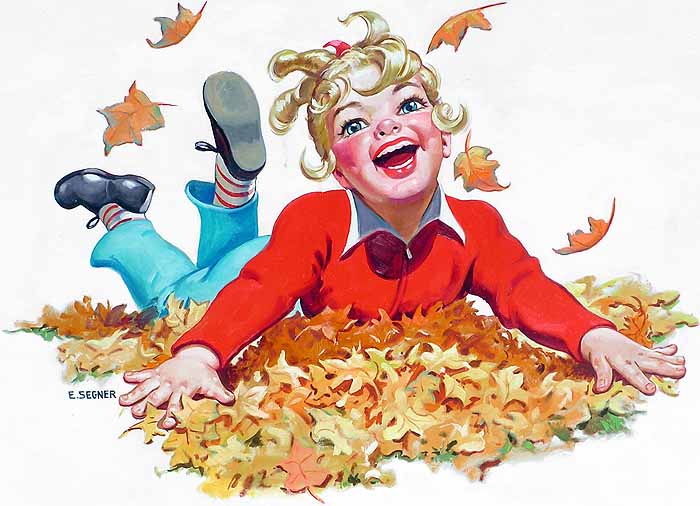 Sunbeam Bread. Segner Item 5
Beautifully detailed preliminary of Miss Sunbeam pulling fresh baked (and packaged!) Sunbeam bread from the oven. Pencil on board.
Approximately 19 x 10. Condition: some pencil smudging and finger prints, as one might expect, mostly outside the image.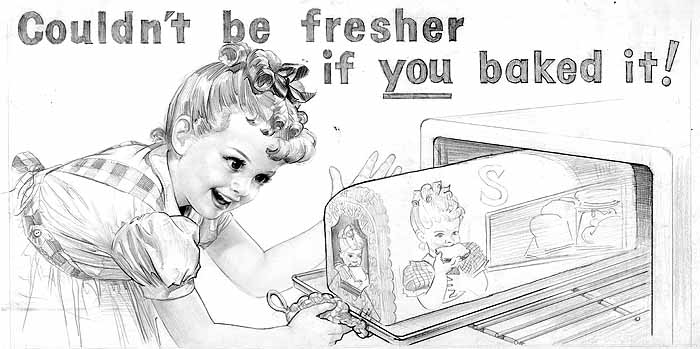 Raleigh Cigarettes. Segner Item 6
Information coming.